foodpanda grocery delivery in Taiwan
Shop now
---
pandamart, delivering your groceries in under 20 mins
pandamart is an online shop owned by foodpanda. It's the fastest way to get everything you need, delivered. Whether it's fresh food, frozen food, drinks, snacks, baking essentials, canned food, seasoning, cereal, health products, pharmaceuticals, tissues, cleaning supplies, diapers, pets essentials, office supplies, or even electronics, we're ready to deliver in just 20 minutes. Order now!
---
foodpanda shops
Missing milk? Seasoning? Forget to prepare gifts for your loved one? foodpanda delivers over 10,000 products in under 20 minutes through your foodpanda app. It's everyday online shopping made easy. Choose your favourite shops for everything from groceries to drinks to health to pharmaceuticals and even electronics. Head to checkout and our foodpanda shops rider will be at your door in a flash.
✔️ 24 hour delivery
✔️ minimum order value $50
✔️ 20 minute average delivery time
✔️ over 1,000 shops and 10,000 supermarket items to choose from
✔️ select your favourite grocery shops
✔️ everyday affordable items delivered
view all shops
---
Deals & Discounts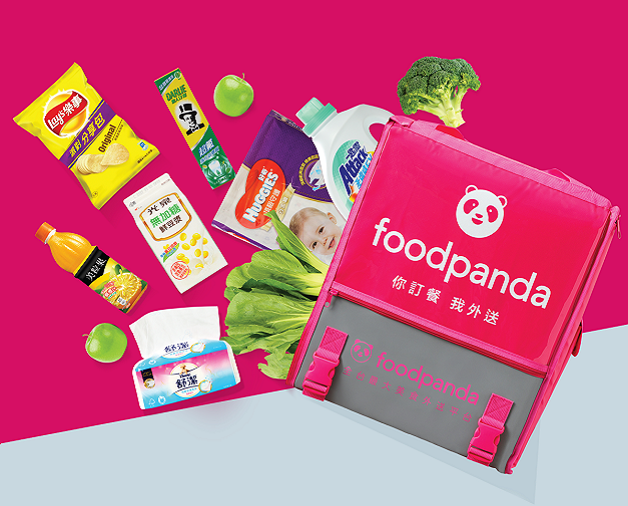 enjoy $100 off your first grocery order
Use code : TRY100
From eggs to toilet paper to soy sauce to snacks and even sanitary accessories, foopanda delivers to you.
$100 off when you spend $200 at top convenience stores inc. Carrefour.
Valid until 31/12/2020, while stocks last.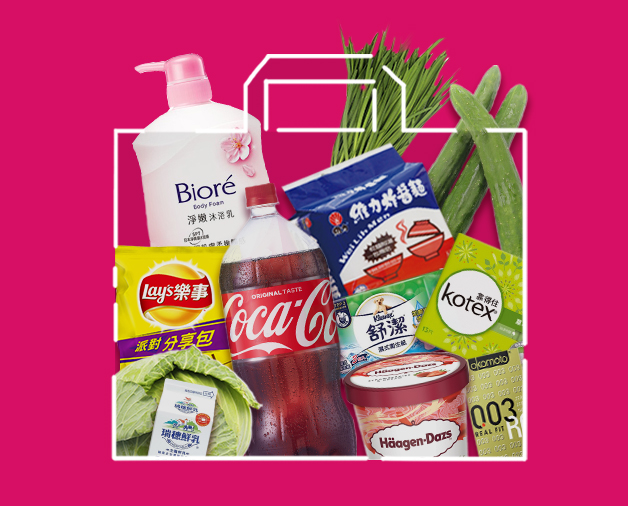 Get fast delivery and $1000 off!
Use code: MK100
Enjoy $100 off on 10x orders of $499.
Valid until 31/12/2020, while stocks last.
Get your groceries delivered in under 20 mins with FamilyMart, Carrefour and a.mart on foodpanda.
View more promotions
---
Online grocery shopping FAQ
What is foodpanda shops?
With foodpanda Taiwan you can get your groceries delivery from pandamart and foodpanda shops. pandamart is our own online shop, working directly with manufactureres and suppliers - offering a massive selection of your favorite brands and delivering to you in just 20 minutes. foodpanda shops enables you to order numerous products from a variety of your favorite stores on one platform!
How can I order groceries online?
To order groceries online in Taiwan with foodpanda, just tap in your adress and go to the "Shops" tab on the top of the listing. Then proceed as usual: browse though your favorite shops or go straight to pandamart, choose your products and go to the checkout.
Is grocery delivery safe?
Yes, your health is our top priority. We always practice the highest standards of food hygiene, while encouraging the same among our partner restaurants and shops. Lately we've gone an extra mile to introduce new measures that safeguard the health of all our customers, riders and employees - a contactless delivery is now available to you.
Which grocery stores deliver to me?
There are dozens of shops and stores on foodpanda Taiwan that deliver to you! For example, Carrefour, OKmart, FamilyMart, 7-Eleven and many many more! Besides, there is our own pandamart with the best selection of goods. In order to check all the stores near your that deliver, just type in your address and discover all the available places.
Which product categories can I order online?
foodpanda lets you order a variety of product categories online! From flowers, party supplies, pharmacy and cosmetics to snacks, fresh produce and even electronics! Check our pandamart/foodpanda shops page or simply type in your address and check all the stores near you.
Is there a minimum order value?
Most shops have a minimum order value of NT$50 and many offer free delivery. You can place an order for less than the minimum order value and cover the difference during the checkout. Please always check this when placing your order.
How can I pay for foodpanda shops delivery?
You can pay online while ordering at foodpanda shops by using a credit or debit card or PayPal. You can also pay cash on delivery.
How can I get a voucher for grocery delivery?
We regularly update this page with the latest foodpanda shops vouchers in Taiwan so check back often! Also check our deals page. You can also follow us on facebook and instagram where we run heaps of promos and vouchers. And if you haven't, download our app for exclusive in-app flash deals!
---